Live Event Broadcasting / Live Event Webcasting / Broadcast Providers
IFDNRG broadcasts a variety of live events onto the internet for clients and in addition to handling the streaming aspects we can also provide full production facilities. From small meetings to large corporate events you can trust us to make sure your live broadcast/event goes smoothly.
We have been involved in live event broadcasting for over 20 years and have the experience, and crew, to handle any scenario.
Live Streaming Provider UK
IFDNRG are an established UK based web broadcast live streaming provider and provide reliable live streaming (webcasting) for events in the UK and beyond. We have over 20 years experience in broadcasting live events from the most challenging of locations. We can provide cross platform streaming facilities and can provide everything you need right down to experienced technicians and reliable and tested broadcast encoding equipment.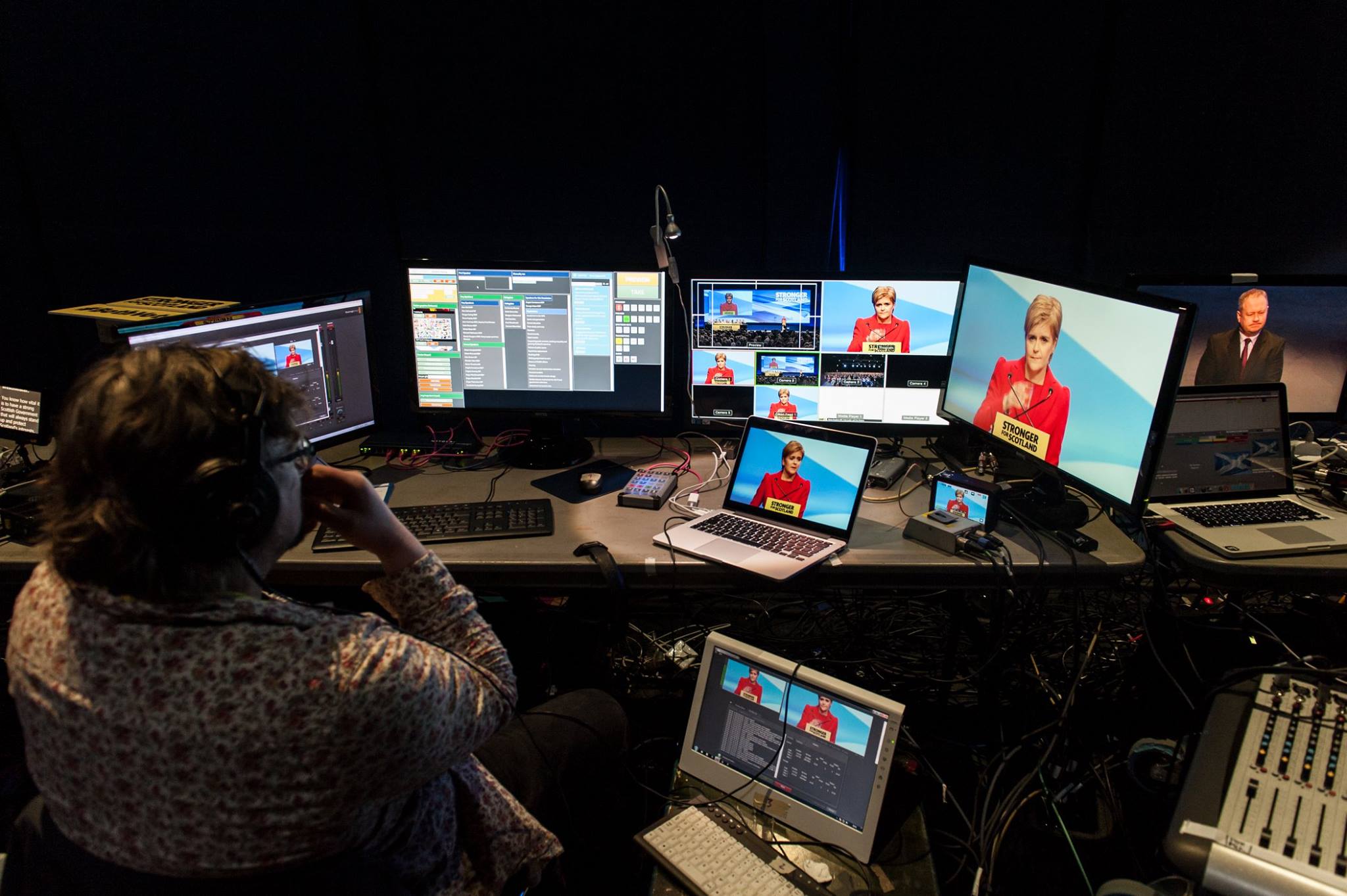 An SNP Conference, pre hardware encoding days
Live Productions need HARDWARE
After a period of utilising multiple Macbook Pro's with software encoding + hardware capture devices ( one per streaming target) , we have upgraded to entirely hardware based setups to ensure reliability and quality
We have invested in a variety of 4K HD-SDI cameras, vision mixers, capture and monitoring hardware devices to ensure the best possible quality.
A selection of the main items we have at our disposal is below, in many cases we'll have multiples.
CAMERAS
Blackmagic Ursa Mini Pro 4.6K

A flexible Broadcast camera for outdoor or indoor use

Blackmagic Studio 4K

Indoor cameras best used in studio environments, with built in tally and comms. we have a wide selection of zoom, superzoom and prime MFT lenses.

Blackmagic Micro Studio 4K

Ideal for close up/ fixed shots, we tend to use for inside pianos, back of stage etc..

PTZ Optics 20X-SDI-GY-G2 Camera's

Remote head, great for stage use and preprogrammed sequences. Very flexible as video, communications and power can all be run over a single Cat8 100m 10Gbps cable.

We've got the Joy4 controller for these , and it'll handle 6 cameras.

We also have API access so we can manage the camera's progamatically ( python seems to work well)

MIXERS
Blackmagic ATEM 1 M/E Advanced Panel 10

The new ATEM 1 M/E Advanced Panel is an elegantly designed professional hardware control panel for all ATEM switchers. It combines modern design with the latest broadcast technology for faster workflows. The new design features a built in LCD and high quality curved buttons that help reduce incorrect key presses.

Blackmagic ATEM 2ME 4K

A powerful 20 input mixer, capable of 2 seperate mixes, loads of aux's which we like!

Blackmagic ATEM 1ME 4K

Little brother of the 2/ME, a powerful 20 input mixer, single mix

Blackmagic ATEM Extreme ISO

A powerful 8 input mixer, capable of ISO recording of all camera inputs. We've also got the BM mini Pro in case sub mixes are required.

Blackmagic ATEM Mini Pro

A Mini Pro 4 channel mixer, no frills but its got a preview bus!

CAPTURE/PLAYBACK
Blackmagic Teranex

The ultimate 12G-SDI real time up, down, cross and standards converter with 1089 conversions, embedded audio, closed captions, timecode and more!.

Blackmagic Smart Videohub 20x20

Advanced 20 x 20 multi format SD, HD and Ultra HD SDI router with built in video monitoring, spin knob control, 6G-SDI technology.

Blackmagic Ultrastudio 4K

A useful multi purpose capture device, allows for ingest and muxing of XLR audio as a seperate feed.

Blackmagic Video Assist 4K

Essential for checking inputs, offering previews to audio/lighting engineers and its also a 4K record deck!

Blackmagic Hyperdeck Mini 4K

Hardware capture and playback deck, with key and fill options for lower thirds and dynamic overlays

MONITORING
Blackmagic SmartView 4K

17" Full resolution Ultra HD broadcast monitor, last used on a Netflix production.

Blackmagic Audio Monitor 12G

Awesome giant audio meter, allowing for easy visual verification of audio levels.

If the audio isn't right, its game over.

ENCODERS / BONDED 4G
Blackmagic Web Presenter 4K

Hardware capture and streaming to our video platforms.

Go Solo 4G Encoders

Used by professional outside TV ENG broadcast teams, for when you just have no idea what the internet is going to be like ( if it's there at all). With battery operation and bonding of 2 x 4G Modems for up to 20Mbps from practically any location. (Works on the top of Ben Nevis.)

DECIMATORS
Decimator Design MD-HX HDMI/SDI Cross Converter for 3G/HD/SD

Don't allow anyone on your job if they don't have at least one of these. This is the "get out of jail" card for the AV industry, it'll handle a bunch of conversions, upscale, downscale, interlaced, progressive, and get you out of trouble when you inevitably get hit with unexpected input formats.

(We've got 3).

OPERATOR COMMS
Canford Comms

For a while we went fancy and tried embedding comms over SDI, but some things just work pretty well as they are.

Wowza Streaming

We run Wowza based servers to handle fast low latency streaming to cross platform desktop and mobile viewers, and with a variety of CDN's to suit any broadcast.

For social media streaming, we can relay to Facebook, Twitter and YouTube as required, often from a single source

Live Broadcast Features

In addition to the actual stream, we can provide a range of interactive features to bring the event to your users.
This includes:

Slide synchonisation
Viewers can submit questions ( via email, audio or video messages)
2 way interaction, live viewer webcam can be brought into the event.
Social Media integration,. hook up your facebook + twitter accounts.
Our completely dynamic player has been designed so that we can control all aspects of the viewer experience without connected viewers doing anything.

Presentation running late, no problem we can push messages to clients.
Unexpected or changed slides can be dealt with in real time.
in fact all aspects of the broadcast are configurable in real time.

Streaming Capacity

As we own and run our own racks of high specification servers we can handle events of any scale. Whether you need to broadcast to 5 people or 50,000 we can and have handled it.

For the largest events we have a number of partners and cloud resources who we can spread load across.

Ultra low latency

We can also do ultra low latency, and reliably get 2s latency globally.

This is often also useful for when events need sync across clients.

Web casting from Edinburgh, Scotland

Whilst our servers are based out of London based data centers, our offices are based in Edinburgh.

We travel all over the UK for events, and handle streaming for global clients.

Stream your Wedding

We can handle all the technical and production aspects to stream your wedding online.

Outside Broadcast

IFDNRG provide outside broadcast facilities specifically for internet distribution and specialise in multi-directional web interactivity bringing your audience back into your event. If you need help getting your event online, contact us..

Broadcasters for SNP Conferences
Broadcasters for Kings College London
Broadcasters for various NHS events
Broadcasters for Strathclyde University
Broadcasters for Heriot Watt University
Broadcasters for 3gsm global mobile conference
Broadcasters for Careers Scotland Global Enterprise Challenge
Broadcasters for AGM's for organisations such as LINX
Broadcasting 2007 AGM NESTA
3 years experience broadcasting SPL, European and International football.